form system
Forms can be easily set up using the editor. Any number of fields, buttons, checkboxes and text fields can be created without programming knowledge. The software automatically corrects field names and form elements. Fields that are filled in can be easily defined.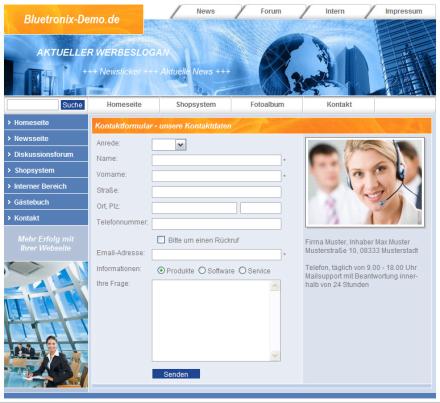 Click on the image to test the form live
The form system relies on the user no Requirements such as mail client setup (mailto), Javascript etc. ahead. The form consists only of a form tag, the standard input fields and the submit button and can therefore be sent from any browser, PDA or mobile phone with internet access.
Sent forms are saved in the form archive and can be read and printed. The form can be transmitted in text mode (field -> name: Mustermann) and in HTML mode (1:1 the completed form mask).
A form can be forwarded to one email address at a time. In this way, various forms can be automatically forwarded to the relevant departments or employees. In addition, a confirmation can be sent to the sender.
Installation of the CMS module form
In the home page edit mode, click

Modules -> Form . In the "Email" field you can enter an email address to which the form should be forwarded. In general, all forms are stored in the form archive

Tools -> Form Archive saved. To start the installation, select Create a form . The module creates the database and creates two pages in the "Form" directory. Once the form (Contact.html) and the shipping page (Shipping.html), which accepts the form and saves it in the archive or forwards it by email.
The form is now over http://www.bluetronix-demo.de/Kontakt.html reachable. To connect the contact form to a menu item, click on

Edit menu and create a new menu item called "Contact". Click now

create link and select the "Contact.html" file in the "Form" directory. Save the menu and test the form with some test entries.
Easily create and modify the form
A detailed description of how to create or change a form can be found in the chapter forms .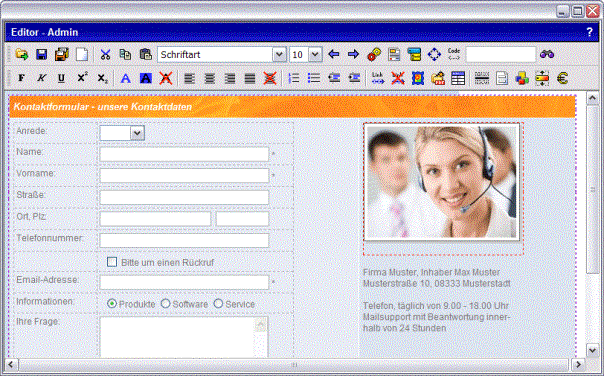 Forms – customize layout
The form can be designed in great detail with the help of the CSS editors respectively. You can customize the colors, buttons, background images and frames with the layout wizard in front.
Form - forwarding to mobile phone
Since all e-mail accounts of the bluetronix software support POP3, STMP and IMAP, you can set up the e-mail accounts on your mobile phone or PDA. This means you receive a form request in real time directly on your cell phone and can respond to the requests effectively and in a customer-friendly manner.

Homepage software chapter selection