photo album
Photo album with image import and automatic calculation of the images
The Photo Album module automatically imports image directories. A brief description as well as a detailed description can be given for each image. The layout, the number of images per page and the image sizes can be changed.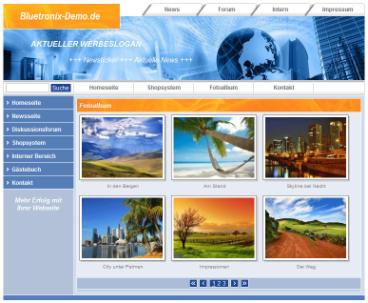 Click on the image to test the photo album live
The image sizes are automatically calculated by the CMS. The time-consuming cropping of the images can thus be omitted. By installing the photo album multiple times, picture galleries can be created on various topics such as products, company tours, objects, employees or private photos.
Installation of the CMS module Photo Album
In the home page edit mode, click

Modules -> Photo Album . If you have already created a directory with images, click on
Choose directory and set the image index. To start the installation, select Create an album . The module creates the database, imports existing images and creates the files for the photo album in the "Photo" directory.
The photo album is now over http://www.bluetronix-demo.de/Foto/Foto.html reachable. To connect the photo album to a menu item, click on

Edit menu and create a new menu item called Photo Album. Click now

create link and select in the directory photo the file Photo.html . Save the menu and test the photo album.
Easily insert or change images in the photo album
Adding or changing the photo album with current images can be done easily using the so-called database buttons



respectively. in the editing mode these buttons are displayed for each image (data record). With one click

Edit record the data record opens in the Database Editor .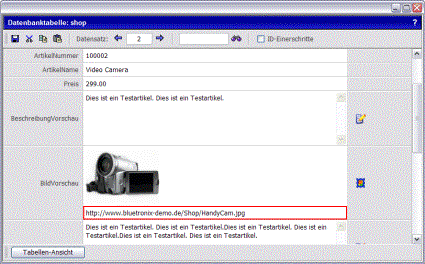 Database record view using the example of the shop system
Now it is easy to add or change images and descriptions. Images inserted later appear in the photo album, sorted by modification date, on the 1st page.
Photo album with individual layout
With the bluetronix software, the so-called database masks of the photo album can be edited. To edit the mask, click

edit page .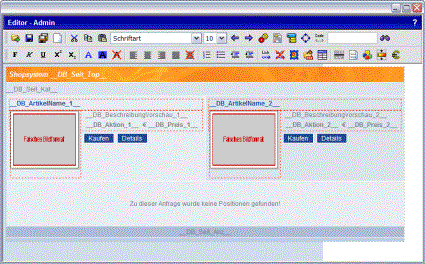 Editing the database mask in the editor using the shop system as an example
In the editor, individual adjustments to the layout, changing the image size, the arrangement and the displayed images per page are possible. For instructions on how to edit a mask in the editor, see Edit database masks . For instructions on how to change the layout (colors and images), see Edit layout .

Homepage software chapter selection