guest book
The guest book module gives visitors to your website the opportunity to leave feedback. All entries are presented in descending order of time. The number of entries per page and the layout can be changed. If the entries per page are exceeded, older entries are automatically moved to page 2, 3 ....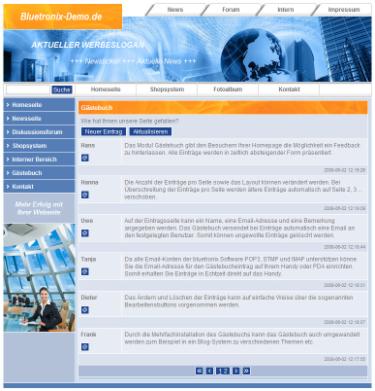 Click on the picture to test the guestbook live
A name, an email address and a comment can be entered on the entry page. The guest book automatically sends an email to the specified user when entries are made. In this way, unwanted entries can be deleted. Since all email accounts of the bluetronix software support POP3, STMP and IMAP, you can set up the email address for the guest book entry on your mobile phone or PDA. This means that you receive entries in real time directly on your mobile phone.
Installation of the CMS module internal areas
In the home page edit mode, click

Modules -> Internal Areas . Choose one
directory and click Guestbook creation . The module creates the database and the files for the guest book.
The guest book is now over http://www.bluetronix-demo.de/Gaestebuch/Gaestebuch.html reachable. To connect the guest book to a menu item, click on

Edit menu and create a new menu item called "Guestbook". Click now

create link and select the "Gaestebuch.html" file in the "Gaestebuch" directory. Save the menu and test the functions.
Easily change and delete records in the guestbook
Changing or deleting the guest book entries can be done easily using the so-called database buttons



respectively. in the editing mode these buttons are displayed for each entry (data record). With one click

Edit record the data record opens in the Database Editor .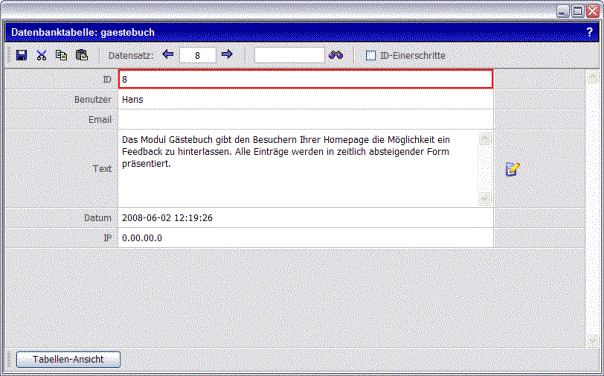 Database record view using the guest book as an example
Now text and descriptions can easily be added or changed. The guestbook entries are automatically sorted in descending order by entry date. Thus, the most recent entry is always in the 1st position.
To delete an unwanted data record, click on the delete symbol in the entry line. For more information on changing records, see the chapter Record Editing .
Easy changing of the guestbook pages - layout adjustments
With the bluetronix software, the so-called database mask , such as the Guestbook.html and Entry.html page, can be easily edited and customized. To edit the page, click on this

To edit Symbol.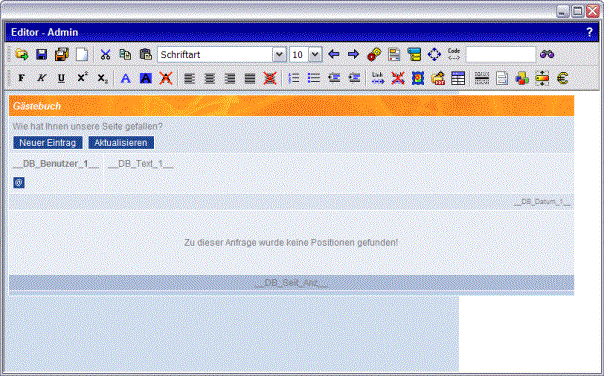 Guestbook page in the editor
Individual adjustments to the layout, colors and background images are possible in the editor. For more information on editing a page in the editor, see the chapter The homepage editor . For instructions on changing the layout (colors and images) globally, see Edit layout .
through the multiple installation of the module different guest books can be created. For example in several languages or for different areas. Homepage software chapter selection